Abidjan Advisory Board
Our board consists of insightful business leaders advising Global Chamber® Abidjan to help companies and communities increase international trade... exporting, importing, foreign tourism and foreign direct investment.
Essi Parfait
Deputy Director of Global Chamber® Abidjan & CEO of FIG COCOA SA
Essi is currently is the Owner President /Chief Executive Officer of FIG COCOA SA (Abidjan), a trading Company that specializes in Cocoa, Coffee beans, and Raw Cashew Nut Export, all agricultural products, business transformation, Commercial Representation. He is an Expert Consultant for Cocoa, Coffee Beans and Raw Cashew Nut Trading and Export, chocolate factory, processing Cocoa derivates (Mass, liquor, butter, cake) planner ,Marketing management, brand management , and has established credibility as an experienced and versatile management professional through the various business and support roles she has held in her career of more than 10 years. Essi also is the Director of Cocoa Beans, chocolate factory, Cocoa derivates, farms (Sao Tomé and Principe, Brazil) Department for Merovee Dynasty Group, a multinational Group represented in 54 countries around the World, with head office in Cyprus. He holds a Bachelor of Art in English Linguistics at University Of Cocody (Abidjan) (IVC) and completed a High Degree                                                                    level-BAC+4  specialized in Economy and Management of coffee and Cocoa at the Institute for Raw Products of Douala
Horokia T. Coulibaly
Marketing & Communications Supervisor at Corlay Côte d'Ivoire
Horokia is a chartered professional in all strategic Management and Marketing activities. With a rich and various experience with national and international companies, such as Chevron or Unilever (among others), she has a particular ability to opening unexplored paths. She has occupied the positions of commercial representative, unit manager, business consultant, Sales and Marketing director and Communication and Brand manager. Horokia is also a teacher for undergraduate and postgraduate students and a trainer for professionals. She is currently a student of the prestigious National School of Administration where she is preparing for a Diplomatic Career.  She is a product of the National Polytechnic Institute, Groupe Instec, The Robert Kennedy College (Zurich) and The University of Cumbria (UK), holding a diploma in Marketing Management, a MBA in Leadership and                                                          Sustainability and various skillsand certificates in HR, Finance, Communication, International Marketing, Safety, Time and Resources management and                                                 Quality Management. 
Guillaume KETY
Managing Director of AFRIKA FORWARD
Guillaume is the Managing Director of AFRIKA FORWARD, a company specializing in the development of business partnerships, whose main activities consist of assisting companies wishing to prospect the Ivorian by helping to implement its activities in Côte d'Ivoire, identifying reliable partners in Côte d'Ivoire (and region) and organizing economic activities (Forums, round tables, missions, etc.) in the country..He completed his graduate studies in Lyon in France, then in Montreal in Canada, at Concordia University and at the Université du Québec in Montréal (UQAM). Holding a Bachelor's degree in Accounting and a Master's Degree in Finance, Guillaume has worked for Dollarama (Canada), the Cote d'Ivoire Distribution Company (CDCI) and most recently at the Center for the Promotion of Investments in Côte d'Ivoire as Head of the Investment Attraction Service.
Aminata Keita
CEO & Founder of R@hminour
Aminata is the CEO and Founder of R@hminour, a company specialized in Communication, Public Relations and Business Representation. She is a motivated professional with excellent communication leadership skills, and proven leadership and problem-solving skills in a multicultural work environment. Aminata is a bilingual Entrepreneur who has studied and worked in the United States, Europe, North and West Africa,  holding a Masters in Information Sciences from Rabat, Morocco and an MBA in Management from The Atkinson School of Management of Willamette University, Oregon, USA. In her capacity of personal coach in leadership and communication, she profoundly believes in the mentoring as a tool for success. That is why she is involved with many projects related to young talents and women in politics and entrepreneurship. She is also President of Lead-Invest,                                                                          Leadafricaines' stock market.
Marie-Anne Assanvo
Managing Director at Myrhann Enterprises
Marie-Anne is the Managing Director at Myrhann Enterprises. M.E is  a Language Consultancy & Support company specialising in French & English, and providing translation, interpreting, coaching and language assistance. Graduated from a MA in Strategic Marketing for the University of Greenwich (UK), Marie-Anne is a sworn Translator at the Ivorian Court of Appeal since 2013,  Interpreter & Linguistic Coach (French-English) and Bilingual Mastering of Ceremonies. She developed a threefold Online translation platform called OnlineTRAD: online quote, online & mobile payment and electronic & physical (express courier) delivery of the translated document to the customer. OnlineTRAD won the 3rd National Excellence Prize 2016 for the Best Digital Innovation. She is a 2016 Mandela Washington Fellow 2016 and the Coordinator of the Ivorian Delegation and Vice-President of the Yali Alumni Association of Cote d´Ivoire.
Joseph-Olivier Biley
CEO & Co-Founder of WeDev Group
Joseph-Olivier is the CEO of WeDev Group, the first start-up factory in West Africa, as an answer to all the difficulties he encountered during his entrepreneurial journey. His mission is to promote entrepreneurship and to guide his clients on their path to create and develop their start-ups. Joseph-Olivier went to the famous French school: INSEEC Business School,where he specialized in marketing and entrepreneurship. He also studied in many cities, such as Paris, London, Chicago, San Francisco, which allowed him to discover a variety of cultures, people, ecosystems and studying methods. He has been selected among only eight entrepreneurs in France for the Start-up Factory Program and went to discover Silicon Valley. Joseph-Olivier believes in the future of Africa and wants to help African entrepreneurs to show that they are Africans and not African't,
Julien Achille Agbe
CEO & Founder of EIC Corporation
Achille is the CEO of the EIC Corporation, a financial platform of investment clubs and business angels, engaged in the development of the financial education, the promotion of popular shareholding and Foreign Direct Investment (FDI) in Africa, while supporting SMEs and startups to their fundraising. He holds a Master in Private Business Law from the FHB University in Abidjan and a MBA from the EDHEC Business School. Member of the Center for Long-Term Strategic Studies, Achille supports its partners and customers in financial education, personal finance management, securities portfolio management, cash management, stock control mechanism, among other business operations. He also carries legal advice for entrepreneurs and investors in their different business transactions. Achille is the winner of multiple awards like the Top 30 Young Entrepreneurs under 30 by Forbes Africa.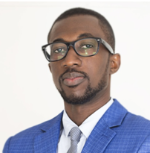 Famien Etienne N'Guessan
Co-Founder of JANDA
Etienne is an Entrepreneur and co-founder of JANDA sarl, a company that manufactures furnitures and decoration items designed by talented African craftsmen. The company is also an E-commerce platform and that sells products via www.galeriejanda.com. Etienne is also the General Manager of the Ivorian branch of WAALAM, a local branch of the international crowdfunding platform based in Senegal and London. Through this platform, they help African SMEs and entrepreneurs to raise funding. Moreover, he is a fellow of two international flagships programs: the 2016 Mandela Washington Fellowship and the 2017 Tony Elumelu Entrepreneurs Programme. Socially, Etienne is an altruistic person willing to positively impact Africa and contribute to the success of his partners.
---
To learn more about Global Chamber® Abidjan contact us at abj@globalchamber.org.
Are you ready to grow globally?